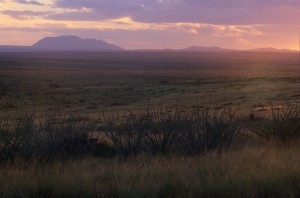 With the help of concerned community members like you, the Coalition for Otero Mesa and partners have waged a successful 10-year campaign to prevent oil and gas drilling from destroying Otero Mesa, New Mexico's wildest desert grassland.
Now, a new threat has surfaced for Otero Mesa — hardrock mining. Since late fall of 2010, a Colorado-based mining company has been steadily staking new mining claims on parts of the mesa that we've proposed for wilderness and Area of Critical Environmental Concern designation. Even exploratory drilling in preparation for further mining operations would seriously impact the wildlife, cultural, and water resources of this fragile desert grasslands.
We must take action and speak out against this new threat to Otero Mesa.